The 2021 Changsha International Construction Machinery Exhibition was grandly opened at Changsha International Convention and Exhibition Center on May 19, about 1450 construction machinery enterprises from all over the world appeared in the exhibition, with a grand scale, rich exhibits, and many exhibitors, which is shocking. In order to expand the influence of the enterprise and develop the market, Shandong Superwatt Power Equipment Co., Ltd was stationed in the "Shandong main image exhibition area" and participated in the exhibition. (Booth number is W1 Hall F072)
And in the afternoon of the 19th, we held the signing ceremony.
Superwatt exhibited 6 units of power equipment including an open-type generator, a silent-type generator, a Supersilent generator, and light towers, especially including the special design light tower for oil fields.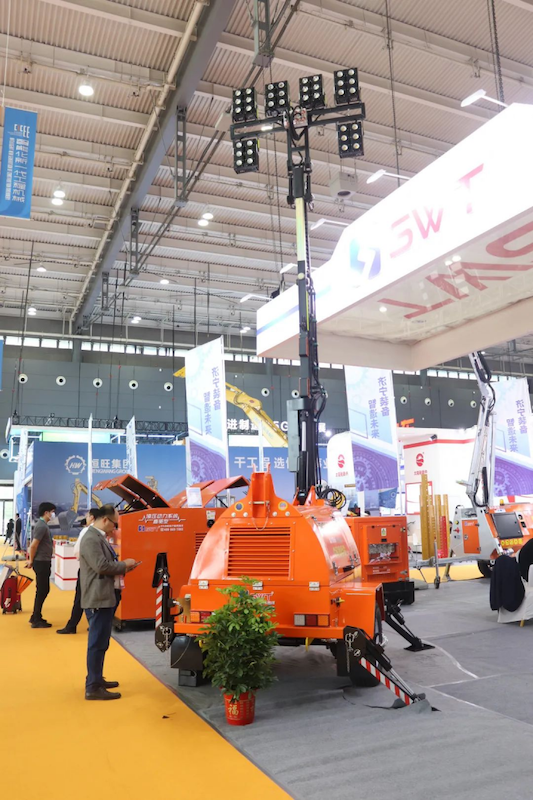 On the first day of the exhibition, the booth was full of guests, who came to consult and exchange cooperation. The receptionist enthusiastically introduced generator sets and light towers and the configuration of the company to the visitors.
During the exhibition, relevant leaders of the Jining Municipal Government and Machinery Association visited our booth. This exhibition lets the community know more deeply about the SWT brand and products of Superwatt, and is also a valuable opportunity to learn from each other strengthen cooperation and exchange, and jointly promote the high-quality development of equipment manufacturing enterprises.
On the afternoon of the 19th, during the participation in Jining (Changsha) high-end equipment industry seminar and exchange meeting, a signing ceremony of enterprise strategic cooperation was held to witness the in-depth cooperation of enterprises. Superwatt signed cooperation contracts with Shandong Dongyue Special Vehicle Manufacturing Co., Ltd., Huazi Technology Co..Ltd., Hanma Technology Co., Ltd., and Kubota Engine(Shanghai) Co., Ltd..
Superwatt insists on technological innovation, creates value for users, provides safe, reliable, energy-saving, and environment-friendly power products for society, and adds bricks to the construction of a strong manufacturing country.