75M Series Oil Field LED Light Tower
Powered by Kubota engine and equipped with Stamford alternator
A model with a laydown mast and hydraulic lifting system powered Kubota engine. The 75M Oil Field series can be considered a "two-in-one" solution ideal for oil field customers interested in having a mobile lighting tower that also with a powerful generator.
Description
Technical data
Description
Technical data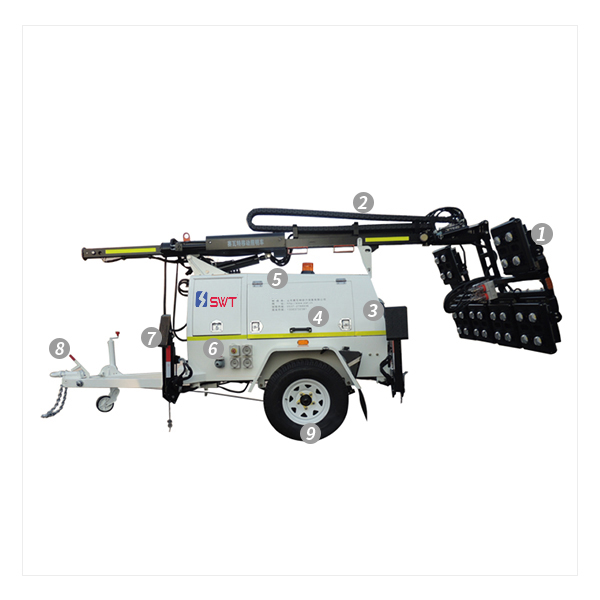 1. IP66 LED lights.
2. Galvanized hydraulic mast, 10 meters extending height.
3. Low-emission Kubota engine.
4. Brushless Mecc alte alternator.
5. Rugged Canopy, galvanized steel board with anti-rust painting to stand in varied weather, widely accessible for easy maintenance, with stainless hinges and lock.
6. IP 44 outdoor electric plugs and sockets.
7. Four 5000lb individual hydraulic retractable stabilizing legs.
8. Retractable & adjustable supporting wheel tow bar.
9. 16" rim with regular tires.
12HKP3600 LED Mobile Mining Lighting Tower
4HVP1600 LED Lighting Tower
i9T Series LED Mobile Lighting Tower
We'd like to work with you