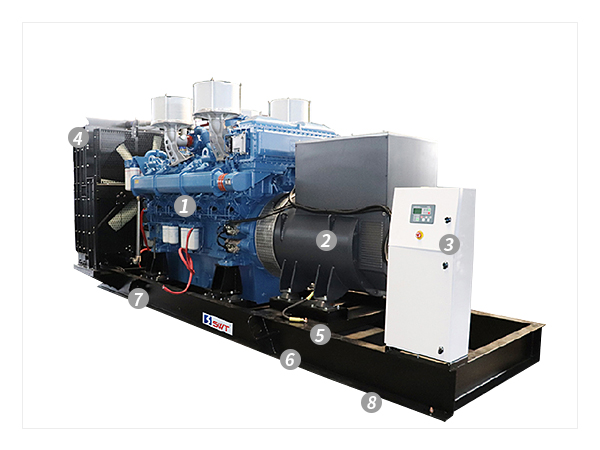 1. Low-emission MTU engine.
2. Brushless Mecc alte alternator.
3. User-friendly control panel.
4. Aluminium Radiator.
5. Durable Continental oil hose.
6. Anti-leakage joint.
7. Anti-vibration mount.
8. Sandblasted and anti-rust base frame.
ISO container standards, with CSC/CCS Certificate, the completed containerized generator sets for shipping by sea directly.
High stiffness and anti-rusty Hempel Polyurethane Paint.
Durable and flameproof Soundproof Material.
DC and AC anti-explosion Led Lights are fixed inside the container and the control panel for maintenance and operation convenience.
UV-resistant glass Window provides better protection to the electrical components of the control box panel.
Specialized rod Locks for better sealing and reliability.
Strong and reliable heavy-duty Hinges for the access door are used for the container.
Bent and shaped pattern plate Ladder provides a larger contact area to avoid slippery during the climbing.
Fuel tank Ventilation Pipe, leading out to the outside of the container, with a fire-retardant breather valve as the ventilation cap.
The Outlet is sealed with an aluminum plate to avoid electric eddy current when the unit is running.
We'd like to work with you